Welcome to my website. This was going to be a blog about my travels in 2020 but Covid 19 put a stop to that. Instead I am still in Melbourne so for the moment this will be about my experience of life in lockdown. I will share some recipes, poems, travel memories on my blog and perhaps some observations of daily life here. Please feel free to share your experiences too, whether you are coming out of lockdown or sadly experiencing a second lockdown overseas.
So happy today (27th October) to change the tagline on my site from Life in Lockdown to Life out of Lockdown as we officially start come out of lockdown today. We don't have to have a reason anymore to leave our homes. Bars, restaurants, shops and other businesses are open up again this week and we can meet up with friends. We can now travel freely around the State of Victoria. Hopefully soon the interstate border restrictions will lift and we can travel around the whole of Australia again. Melbourne is coming back to life.
My 10 best free things you can still do in Melbourne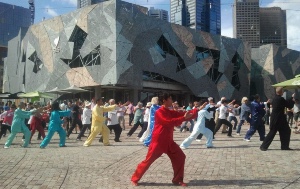 One of my favourite things to do in Melbourne pre-lockdown was the free Tai Chi and QiGong classes held in Federation Square on Tuesday and Friday mornings. While it required an early start, it was a peaceful time of day to exercise with the slowly awakening city in the background. Welcoming both experienced and new participants, it was a friendly group and many stayed behind for a coffee and chat afterwards. Fed Square is a ghost town at present but the classes are still happening online. Just visit the Virtual Square Website for a range of Health & Wellness classes. There's loads of other activities on this site as well
The delightful Royal Botanic Gardens Victoria have re-opened. Such a lovely place to relax and chill out. Bring a picnic or pick up a coffee and some light eats at one of the two cafes. Note that there are still size restrictions on your picnic group. If you can't visit then the next best thing is the Virtual Garden.
Museums Victoria has 3 museums under it's umbrella; Melbourne Museum, Scienceworks and the Immigration Museum. All offer free admission for concession card holders. The doors have re-opened but you need to books your tickets online before you visit. All 3 museums offer virtual tours.
Both the National Gallery of Victoria (NGV) International (St Kilda Road) and NGV Australia (Federation Square) are free except for special exhibitions. Also temporarily closed at present but both have lots on online collections, events and videos on the Channel. NGV Australia at Fed Square re-opens on 23/11/20 and NGV International re-opens on 19/12/20. Both require on-line bookings before your visit,
Exploring the Melbourne Arts Precinct, a series of galleries, performing arts venues and spaces, was always an interesting way to spend the day and a good place to introduce visitors to Melbourne's art scene. Plenty of places to grab a bite or a coffee and there's usually free exhibitions and tours on offer and a Sunday Market. With these venues now closed during lockdown, the major companies are now offering free virtual performances. Melbourne Symphony Orchestra , Australian Ballet and Arts Centre Melbourne
 The Melbourne City Library in Flinders Lane is always a friendly place to visit. A welcoming place to drop in to borrow a book or CD, read a magazine or use a computer. Plenty of free study space or meeting rooms available as well. Check out their website to see all of their on-line offerings and, if not already a member, you can join remotely so you can borrow their e-resources. It has partially re-opened for click and collect borrowings.
The Zoo sites at Melbourne, Healesville and Werribee are not usually free but during lockdown they are offering a range of virtual tours. Meet the animals at home
The State Reference Library in Swanston Street is always worth a visit even if it's only to explore it's beautiful building and view the La Trobe Reading Room. But there's usually plenty of other exhibits on offer. Check out the website to see what's available during the Covid-19 closure. You can join on-line as well.
Visiting the markets is a great way to explore Me lbourne's food culture. Markets stayed open during lockdown for food and takeaway service. Specialty shopping and other activities such as eat in dining, tours, performances and cooking demonstrations are gradually opening up again. If you can't get there then  all three offer home delivery from some traders. The most popular for tourists and locals is the Queen Victoria Market but South Melbourne Market and Prahran Market also have a big local fan base.
You can't go past exploring the city's hive of laneways and arcades. Discover vibrant street art, boutiques and hole in the wall bars and cafes. You can now explore these again at your leisure and it might be an opportunity while it's still fairly quiet to take some uninterrupted photographs. If you can't get to the city, then here's a couple of websites to explore the City Laneways and Arcades