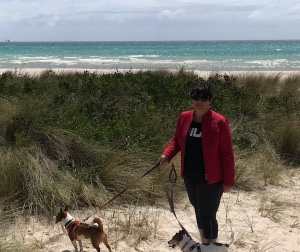 Thanks for visiting my blog. My name is Viv Newton and I live in Melbourne, Australia. I retired in 2019 after a varied working life in different cities of Australia and Papua New Guinea, the last 15 years in International Development. This really whetted my appetite for travel as I was privileged to visit projects in Asia and the Pacific. I had big plans for travel in 2020, housesitting and petsitting my way around UK and Europe. I had my first nine housesits booked in Ireland, United Kingdom, Scotland and France; my bags were packed and I was ready to go. Unfortunately, the corona virus struck and our international borders were closed just two weeks before my flight to Dublin so "leaving on a jet plane" is on hold for now.
Since then we have mainly been in lockdown in Melbourne. We surfaced briefly in June but, with cases spiralling again, we went back into an even tougher lockdown in July.in And here we stay for the moment, watching the numbers every day with bated breath, hoping they reduce enough to allow us into the next stage of opening up again.
My initial idea in setting up this blog was to record my travel adventures in 2020. With all travel on hold for the present and even our own state borders closed to us, I have decided to revisit my previous travel memories and start recording photos and stories from earlier adventures. I also want to create a picture of our life here in Melbourne in what we will look back on as a unique experience in our lives.
I would love to hear from you. You can leave a comment on a blog post or complete the form on the Contact page. I would also welcome contributions of your travel stories or memories, lockdown experiences, recipes, book reviews or anything else you would like to send me. You can also email me at [email protected]