A Day with the Pandas – September 2016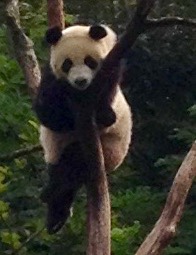 This was a once in a lifetime travel experience. I was lucky enough to spend a day as a volunteer at the Dujiangyun Panda Base Rescue Center in Chengdu China. It was expensive, as it's used as a fund-raising activity by the non-profit centre, but worth it to get a behind the scenes experience with the pandas and keepers.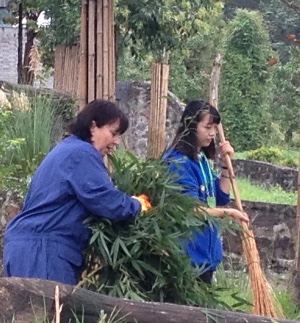 I had a tour guide, Green, who was an absolute delight on the 2-hour trip from my Chengdu hotel to the town of Dujiangyun and a fountain of knowledge not just about the pandas but about China and life in Chengdu. Once at the centre, we met up with the other volunteers – about 10 of us – given an orientation session in English and issued with our overalls and equipment. We were also allocated an English-speaking guide by the centre who quickly put us to work, each looking after a panda enclosure. Adult pandas are solitary animals not keen on sharing so have their own enclosures with an indoor and outdoor area. With a hungry panda safely locked indoors, my first job was to remove all the old bamboo and poo from the previous day. Once this was finished, I then lay down a fresh supply of bamboo and the panda was released into the outdoor area to eat. The centre is open to the public and someone my age was spectacle of amusement, as onlookers filmed and snapped photos from the public side of the enclosure.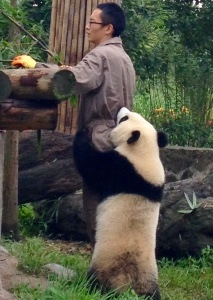 We then met one of the keepers who explained about the pandas at this base. Most are adult rescue animals, as it is mainly a care and rehabilitation centre rather than a breeding centre but luckily there was a set of young twins living there. Panda twins play together happily until about 3 years old and are then usually separated. We watched as the keeper gave the twins, a boy and girl, their daily exercise. This was mainly games; hide and seek, chasing, wrestling and rolling down the hill. The boy loved the rough play but the girl just wanted to hug the keeper. It was so funny, we could have watched all day but next on the agenda was the morning feeding time. I was lucky to be allowed to feed one of the pandas his mid-morning snack of fruit, veges and special panda cakes. I was so excited to be up close and personal as I fed him his snacks one at a time.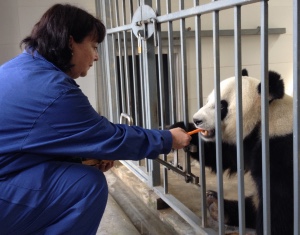 It was time off after this until lunch, so Green and I wandered the site looking at the other enclosures. There were also a couple of enclosures of red pandas. I had never seen these before, and they are very different to the giant pandas. The red panda is like a small bear cat. Small and fast so very hard to get a photo.
Next was a buffet lunch with the keepers and other long-term volunteers. Some international vet students volunteer here for 3 months at a time so it was interesting to chat to them. We then watched a panda documentary about efforts to release pandas back into the wild; a long and expensive process. Helping to make panda cakes in the kitchen followed and then it was time for another snack feeding session for the panda's afternoon tea. As this was my last time to get up close, I made the most of it and loaded up with a big tray of snacks. One final look around the enclosures then it was time to say goodbye to the pandas and return to Chengdu.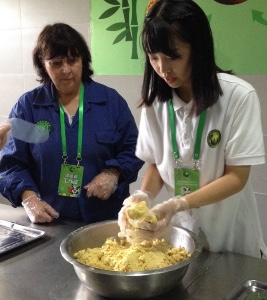 This was a really enjoyable experience, probably never to be repeated, and it was fascinating to have a behind the scenes look at a day in the life of a panda.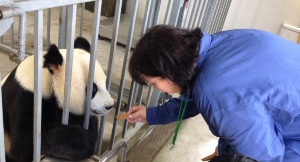 Notes:
A cheaper option, if you are confident travelling by public transport in China, would be to contact the Panda Base direct to arrange to volunteer. It's a train and bus trip to the base from Chengdu.
The base I visited is mainly for adult pandas. There is another centre closer to the centre of Chengdu where pandas are bred, and you may get to see baby pandas. But be warned that this is much more crowded, and you can't volunteer at this base.
If you want to see what pandas get up to, check out this live panda cam site Don't forget to take into account the time difference between where you are located and Chengdu China