3 Weeks in Portugal – August 2018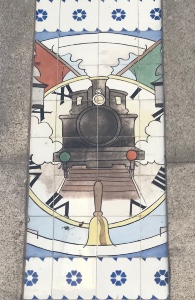 Back in 2018, when we could travel from Australia, I treated myself to a holiday in Portugal as a 70th Birthday present. It was a great decision and gives me something lovely to look back on. Here's some notes from my travel diary.
Week 1 – Porto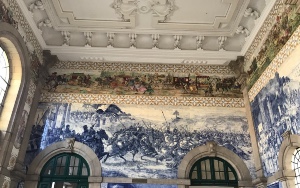 I'm on the train from Porto to Lisbon on the first leg of my journey south to Lagos. Excuse typos as it's a bit bumpy but seats are comfy, I can charge my phone and aircon is good; a bit cold in fact. Have had a great first week. The people are friendly and it's easy to get around. It's also very safe for a female single traveler.
One of the highlights of the week was the Douro Valley. I had originally planned to do a boat trip up river to one of the towns then train back but, in this busy season, most of the boat trips were either booked out or very crowded, so I decide on a bus tour with Living Tours. Relatively small (about 14 of us), this took in visits to two wineries, lunch and a boat trip up river from Pinhao (so I still got to do my boat trip). The first winery specialised in moscatel and the second in port wine. This was a good decision as we saw a lot of the countryside up close. The weather was also very hot so much more comfortable on an airconditioned bus than an open boat. Lots of information about grape growing and port wine production – they use the old methods in this area. Grapes are stomped to start the fermentation process and are picked by hand. Taste my first rose port which has been designed as an aperitif rather than a digestive. It is much lighter and fruitier than other ports and can be mixed with champagne or cocktails. Other than the tour, I spend the rest of the time just wandering around the streets and alleys of Porto. My apartment is central to everything; walking distance to the train station and to the Ribeira area for night time food and entertainment. This is a lively area with buskers, stalls and open area restaurants located down by the river so down a steep staircase of maybe 100 or so steps down the hill side. Luckily there is a funicular rail to come back up on so night time wanderings have to finish before 10. I took in a Fado show in Porto – poems about life set to music. Singer sounds a bit like Edith Piaf so you get the style of the show.
One of the best decisions on this holiday is to spend a couple of days in Guimaraes at the recommendation of a friend from work. It's a lovely old town, about an hour or so by train from Porto. This is the birthplace of Portugal, and they are very proud of that here. The old medieval buildings have been preserved and it's delightful to wander around the narrow cobbled streets in the old city. Everything is in walking distance (provided you don't mind the hills) so no need for tours. The castle and palace on the hill is the highlight of the area and I went early to beat the tourist buses from Porto. Probably the best food that I have had so far. Lots of tapas which I love as it gives me a chance to try different dishes. Mushrooms feature on the menus as well as the many meat dishes including black pork (not really black just charred on the grill). There's outdoor restaurants and bars in the many squares so plenty of eating choices. I think that if I return to the north of Portugal, I would base myself here rather than Porto as there's good transport to the surrounding towns and areas and it's easy to get to Porto as well.
Week 2 – Lagos

I arrive in Lagos on a balmy late summer evening and can already feel the difference in the slower relaxed pace of life in the south. There's no direct train from Lisbon to Lagos so I change at Tunes on to a local train for the last leg. Just make the last connection of the day thanks to a beefy backpacker who sprints with my suitcase down the platform and loads it on board. A tiny one carriage train packed with holidaymakers, so we were all squashed in and have to sit on our bags – but most of these passengers leave at Faro – so I have a comfortable seat for the last few stops. Meet up with my son here so it's great to have company for a week of beach going and eating. We are staying at the very comfortable Holiday Lagos guesthouse located halfway between the historic town centre and the scenic coastline with everything in walking distance. Days take on a routine, breakfast at a local café of freshly squeezed suco de larange, café and pasteis de nata (orange juice, coffee and custard tarts) then a brisk walk down the cliffs to a nearby beach – we check out a new one every day. Lunch is at one of the many beachside cafes and seafood is a must with perhaps a glass or two of wine. Back to the guesthouse for a late afternoon siesta followed by a walk to the old town to find somewhere for dinner. There's a wide variety of restaurants so plenty of choice but we usually end up with seafood again. We are eating a lot but walking so much up and down the hills that it's not a problem. One evening we walk down to the Ponta da Piedade to watch the sun set over the cliffs; a long walk but well worth it. On a rainy day, we explore the old town and market then, as the rain clears, we head up to the rooftop above the fish market for lunch with a spectacular view. We talk about exploring some of the other nearby towns in the Algarve but don't actually do anything about it such is our summer lethargy. All too soon the week is up, and I head off to Lisbon, this time by express bus. Much faster and cheaper than the train but not as comfortable.
Week 3 – Lisbon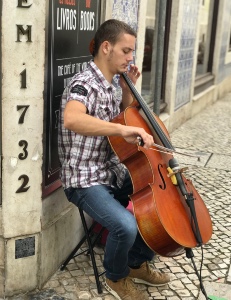 I arrive in Lisbon in the late afternoon and head to my apartment in the Chiado District. It's in a great location; a busy street of bars, shops and restaurants with a train station nearby and the tramline on the next corner. It doesn't take me long to settle in and, with the free phone provided by the apartment, I head out to explore and find somewhere to eat. In these days of smart phones and apps, there's no worry about getting lost and no need of maps as you can easily pin point where you are and where you want to go.
The best way to see Lisbon is on foot. I spend most of my days here just wandering around the city, up and down the maze of narrow cobbled streets, admiring the tiled buildings, stopping for a pastel de nata and coffee, looking through art galleries and shops. When I want to wander further afield, I buy a 24 hour travel Viva Viagem card from the metro station. This lets me hop on buses, trams and funiculars as well as the street elevators. This is such a great option than I renew it every day. I get up early one morning to ride the Santa Justa Elevator from the lower streets of the Baixa to the higher Carmo Square in the Bairro Alto district. At peak tourist times, the queues snake around the streets unless you are there before 8AM. From the top there are great views over the city but, on the day I chose, it was cloudy so not much good for photos. I take the E15 tram out to the Belem district to explore its seafaring heritage. This is where the 15th century explorers departed from on voyages to India, East Africa and Brazil and there's an imposing monument to this. Unfortunately, the queue to climb to the top is way too long so I miss out on the panoramic roof top view. The queues for the monastery are equally as long so instead I wander along the pleasant riverside walk admiring the outside of the buildings and the green open spaces. For the same reason, I also forgo tasting a Pastel de Belem at the home of the original custard tart and lunch at a nearby cafe instead. By late afternoon the crowds have really built up so I return to town on the much less crowded 728 bus.
Lisbon is a great city to sample delicious fresh food and I follow my nose to find places for lunch or dinner enticed by the smell of sardines and chicken char- grilling. No need for a guidebook, there's so many places to choose from and plenty of fresh seafood on offer. Not a fan of the national dish Balcalhau (salt cod), I go for the clams and mussels mopping up the tasty sauces with crusty bread. The delicious Caldo Verde (kale and sausage soup) is a filling option on a cooler day and I try Frango, the Portugese rotisserie chicken with the spicy peri peri sauce on the side. So much better than Nando's! There's an abundance of wine bars tucked away down the streets and one evening I try the Bar Nova recommended by a Melbourne friend. I spend a lovely evening sampling wines and tapas and chatting to the friendly staff. Lucky it's just a short walk back up the hill to my apartment
So much to see, do and experience, the week flies by and sadly I am heading to the airport for the long journey back to Melbourne.
Portugal is a delight. I can't wait to return for a longer visit next time. People are very friendly and English is spoken in most places. Though it's nice to learn a few common phrases and I got a great response in the cafes when I ordered (or tried to order) my food in Portuguese. Food is very fresh and it was fantastic to be able to order freshly squeezed orange juice even in the smallest of places – orange juice squeezing machines abound. It's easy and cheap to travel around by train or bus – particularly if you can book in advance and I found the station staff helpful and knowledgable about timetables and fares. Probably September/October would be a better time to visit when the tourist crowds have abated but the weather is still warm.