Full House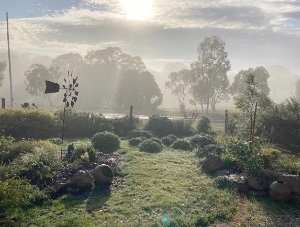 In the middle of 2019 we sold our family home in Williamstown and bought a property in Heathcote, 2 hours north of Melbourne. So we have 100 acres of beautiful Australian bush, a large country farmhouse and garden, with 6 lovely chooks, a slightly neurotic dog, a vegetable garden, fruit trees and sheds. The plan was to get ready for retirement.
However, things changed dramatically in early 2020 when our youngest daughter, who was at that time living and studying in Pavia (Northern Italy), phoned to say her university was being closed due to Covid-19. She and her partner had been advised to travel home to Australia for a few months until things settled down. Two days later we collected them from the airport. At this time there were no quarantine rules, but we decided to be cautious. They moved in with us and we restricted our movements until we were sure they were in the clear. With restrictions coming into play in Melbourne, I then began to work from home.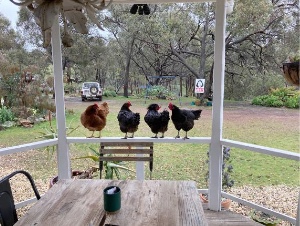 3 weeks later my eldest son lost his job, due to Covid closures. Subsequently his relationship broke down and he had to move out of the flat. So he also moved back home. At about the same time my brother became homeless and moved in as well. Our little country retreat for 2 became a bustling house with 6 adults, a now very neurotic dog and 6 chooks – who remain lovely. We now have a cooking roster, a going in to town roster, a shower roster (as we are on tank water – lucky it has rained a lot), rosters for using the home office and a TV roster.
But really we are lucky, we have 100 acres to explore, we have 3 dams that are full and teaming with life – frogs, tadpoles, yabbies and ducks. The garden and bush are exploding into color with wattles and gums and more recently wild flowers. There are kangaroos, wallabies and amazing birds all busy reproducing, building nests and preparing for spring; in fact it is almost possible to forget Covid-19 exists.
Despite the dramatic changes I really like being at home. Before Covid my suitcase was always half packed, my life was planned around my next trip to PNG, my passport never got put away and I always had half my toiletries in a travel bag ready to go. And even when I was here I was traveling down to Melbourne and staying overnight 2 days a week. I like not living out of a suitcase. I like not knowing the full menu in the Qantas lounge. I like not having to get up at 4 in the morning to catch a flight.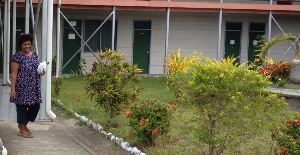 But my work has really changed. I now spend many hours everyday on zoom and this is hard. I miss the interaction with colleagues, I struggle to do my job to the same level, distance communication is challenging and exhausting and draining and often not very rewarding. I miss seeing the reactions when someone has learnt something new, I miss seeing someone using a new skill or transferring new information into a new way of doing. I miss being called 'Big boss Mary' – no one calls me that at home. I miss the Holiday Inn, I miss the woman at the check in desk at the Rabaul airport, but most of all I miss my colleagues in PNG. I worry about them and their families and, like many times in my life, I reflect on how fortunate I am to be born and grow up here in Australia. And I guess for me one of the hardest things about Covid-19 is – feeling privileged and guilty.