Easy Winter Soup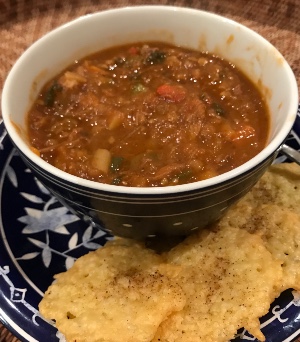 This is a very simple soup recipe. The longer you cook it the better it tastes. Make it with lamb or beef and whatever vegetables are in season.
Ingredients
4 lamb shanks or beef osso bucco pieces (or any other meat with a bone)
1 Large white onion
1 Large Spanish onion
1 red or orange capsicum
3 sticks celery
2 carrots
1 large sweet potato
2 or 3 potatoes
1 piece pumpkin
1 small eggplant
2 or 3 tomatoes
1 bunch parsley
1 cup chicken or beef stock (or stock cube)
½ to 1 cup red lentils
Red wine (optional)
Water
Salt & pepper to taste
Method
Brown meat on both sides, drain and remove excess fat. Place in a large soup pot.
Peel, chop and slice all vegetables and add to pot (potatoes can be unpeeled)
Add stock and a splash of red wine if desired.
Add lentils
Cover with water, bring to the boil. Turn down heat and simmer on a very low heat for at least 4 hours or until meat is falling off the bone.
Remove bones from meat and break up meat with a fork.
Lightly mash up some of the vegetables to thicken soup and season to taste with salt and pepper.