Best Banana (or Pumpkin) Cake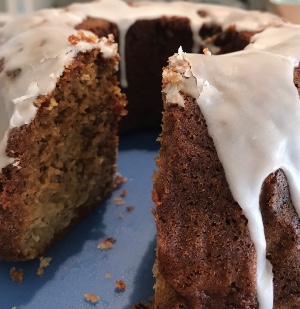 This is the best banana cake recipe that I have ever used and it is super easy to make. No electronic mixer required. Frosting is optional. You can also replace the bananas with a cup of cooked and mashed pumpkin and add some sunflower seeds to the topping
Cake:
½ cup oil
3/4 cup sugar
2 or 3 bananas well mashed (best over ripe) or 1 cup of cooked and mashed pumpkin
2 eggs lightly beaten
1 & ½ cups self raising flour
1 teaspoon bicarbonate of soda
Frosting:
1 to 1 ½ cups icing sugar
100g cream cheese, chopped (full fat not light)
100g butter, chopped
½ teaspoon orange blossom essence (or use orange juice)
Squeeze lemon juice
Cake:
Grease a ring tin and line base with baking paper (or use a baba tin or a 20cm round tin). Sift flour and bicarb soda into a bowl. Add sugar and mix through. Make a well in the centre and add bananas, eggs and oil. Stir until the mixture is smooth. Pour into cake tin and bake at 150C for approx. 1 hour (less for a baba tin). Ice with cream cheese frosting or lemon glace icing if desired.
Frosting:Beat cheese and butter in a small bowl with electric mixer until as white as possible. Gradually beat in one cup of the sifted icing sugar. Add remainder of sugar together with orange essence or juice and lemon juice and combine well. Spread frosting over cake. Or make a simple glace icing with icing sugar, orange essence and lemon juice and dribble over cake.