Viv's Chicken Rounds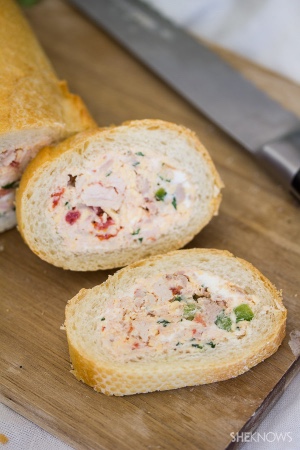 This is a simple but versatile recipe. It's great for using up leftover chicken or turkey and perfect to take on picnics. Also very popular served with a glass of champagne for a Melbourne Cup lunch.
Ingredients – makes around 24 rounds
250 gms light cream cheese
1 long baguette stick or 2 short sticks (not French sticks)
1 large cup cooked chicken (or turkey) finely diced
Small bunch chives – finely chopped
Tblspn mayonnaise
Salt & pepper to taste
Method
Soften cream cheese and add chicken, chives and mayonnaise. Mix until well combined. Season as desired with salt & pepper and mix in thoroughly.
Cut ends from baguette sticks then cut into manageable lengths – around 3 or 4 inches. Hollow out the sticks by removing the bread from inside the rolls.
Using a teaspoon, pack the cream cheese mixture into the hollowed out sticks from either end. Press the mixture in firmly so there are no air pockets.
Wrap the rolls in aluminium foil then refrigerate for at least 4 hours – preferably overnight.
Remove foil and cut rolls into half-inch rounds.
Tips
Make double the quantity and freeze some for another time. Freeze after wrapping in foil before cutting into rounds.
Try different fillings. Substitute a drained can of salmon for the chicken and add some finely chopped smoked salmon. Ham or salami with some grated parmesan cheese is another tasty variation. Add some chopped up vegetables for a healthy option
Mix the unused bread up in a food processor to make fresh breadcrumbs. Can be popped in the freezer for another day.