Inge's Spinach & Salmon Roulade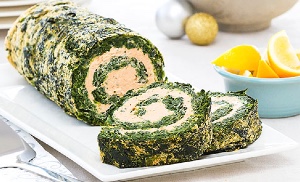 Ingredients:
60 gm butter
1/3 cup plain flour
1 cup milk
4 eggs, separated
250 gm packet frozen spinach
FILLING
2 x 220 gm cans red salmon, drained
4 shallots, chopped
½ cup mayonnaise
1 tablespoon chopped chives
METHOD:
Place frozen spinach in a pan, cook over moderate heat until all liquid has evaporated.
Melt butter in separate pan, add flour, stir 1 minute. Add milk gradually, stir until mixture boils and thickens.
Quickly stir in egg yolks and spinach, transfer mixture to a large bowl.
Beat egg whites until soft peaks form, fold lightly into spinach mixture.
Pour mixture into greased and greaseproof (oven bake) paper lined swiss roll tin ( base measures 25cm x 30cm).bake in a hot oven 12-15 minutes or until puffed and golden brown.
Remove from oven, turn onto wire rack covered with a tea towel. Carefully remove lining paper, spread evenly with Filling.
Holding tea towel with both hands, gently roll roulade.
Filling: Combine salmon, shallots, mayonnaise and chives, mix well.