Mark's Easy Red Chicken Curry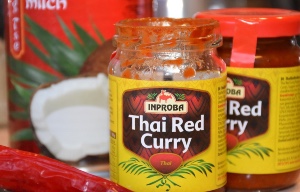 This is an easy curry but it has a delicious flavour.
Ingredients
Red curry paste
500gms roughly diced chicken (thigh meat is best)
400ml coconut cream or milk (cream gives thicker sauce)
1 tablespoon fish sauce
1 tablespoon brown sugar
1 lime (grate rind & extract juice)
1 bunch of green beans
1 can of bamboo shoots and/or water chestnuts
1 capsicum sliced
1 broccoli
Small bunch basil – chopped
Small bunch coriander – chopped
Method
Heat wok with oil, stir fry paste for a minute then add chicken & capsicum and stir fry until chicken sealed
Add coconut cream, fish sauce, brown sugar, lime rind & juice
Bring almost to boil then reduce heat to simmer (don't let it boil)
Simmer for about 15mins then add broccoli, beans, bamboo shoots & chestnuts
Simmer for 10mins then stir in basil & coriander and turn off heat
Allow to sit for at least 15mins before serving with rice
Tips
For best results allow to cool and keep in fridge overnight before heating & serving. This allows a longer time for flavours to combine.