Mini Christmas Puddings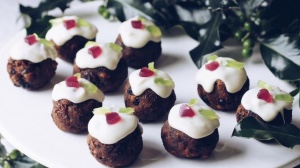 Fun to make and decorate with the help of children.
Ingredients
1 dark fruitcake approx 800g (a cheap one is fine)
200/250g block dark chocolate
125g butter
2 tablespoons of rum or Grand Marnier or brandy or orange juice
optional: extra fruit or citrus peel, very finely chopped, or orange zest (finely grated peel)
Truffle size patty pan cases
To ice:
white glace icing (1 cup icing sugar mixture and about 1 tablespoon water)
OR 250g block dark chocolate
silver cachous or glace cherries
Method
Melt the butter and chocolate together in a bowl over very hot water. While it is melting, crumble the fruit cake into a large bowl. Add the rum/Grand Marnier/brandy/orange juice and mix it through. Stir the melted butter/chocolate mixture until it is combined and pour it into the cake mixture. Mix well until all is combined.
Prepare two swiss-roll size baking trays with greaseproof paper. Take one teaspoon of the mixture and roll into a ball, place on trays and continue until you have used up all the mixture. This size will make between 70 and 80 tiny Christmas puddings. Put the trays into the refrigerator for 1-2 hours to allow them to set.
Prepare the white glace icing or melt the dark chocolate. Ice the tiny puddings, allowing the icing/chocolate to trickle down the sides of the puddings. Put a small piece of glace cherry or a silver cachou on top of each one and return to the refrigerator to set – a day or two gives the flavour time to develop. Place each pudding into a patty pan case.
Tip
You can use royal icing if you prefer on these tiny Christmas puddings.
Store in the refrigerator if necessary (especially in the heat of an Australian Christmas!).
Place some in a decorative box or basket to make an excellent present.