Wandering Vinos (Errantes Vinos)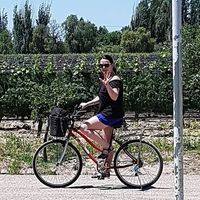 Salude!
Hi, we are Lindsay and Matt traveling the world… We work in our own business in theatre and entertainment. Well not at the moment as we are in intermission because of Covid 19.
After drinking myself around Mendoza Argentina and Uruguay I wanted to know 'what's in that glass?' what am I drinking? So, here I am today in Covid lockdown as a Wine Enthusiast – novice wine girl ready to study WSET Course – sometime olive maker – lover of gardening and a Spanish student, occasional photographer for travel. We are lifelong Melburnian Aussies with a penchant for international travel mustering up Spanish along the way and drinking ourselves to our hearts' content.
I will post snippets from our wine and travel adventures and photographs from our trips. I will show photographs of the beautiful arctic surroundings of Alaska a trip that was taken in 2014 and was the highlight of our navigations through the states and Mexico. To follow, lovely snaps of Argentina and Uruguay Nov – Dec 2016 – Japan Nov 2018 – Guatemala – Antigua – Lake Atitlan – Belize – Americas current 2019… Plus you will see notes from my tastings as well as a whole lot of "Vino en la casa de McConnons" … the dream would be to live abroad for 6 months and become fluent in Spanish whilst exploring wine appellations.
Muchas Gracias!
All photos on the Wandering Vinos pages were taken by Lindsay McConnon unless otherwise credited.