Craig's Warm Chicken Salad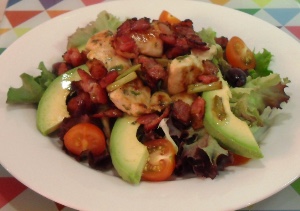 This may not be the healthiest of salads but it's very tasty.
Ingredients
1 Whole Chicken – skin on
1 Clove Garlic – squeezed
125 Grams Butter – softened
1 small bunch Sage – finely chopped (or other preferred herb)
Salad Greens (approx half large salad bowl)
2 Tomatoes – chopped
1 Spanish Onion – thinly sliced
1 Avocado – cut into chunks
2 radishes – thinly sliced
Small bunch chives – finely chopped
Olive Oil – drizzle
Lemon Juice (half lemon squeezed)
Salt & pepper to taste
Rasher of bacon – crispy fried (optional)
Method
Soften butter and add squeezed garlic and chopped herbs. Mix until well combined.
Butterfly chicken (cut through breast bone and flatten) and lay on a baking rack skin side upwards.
Spread butter mixture over chicken and roast in a very hot over until skin is brown and crisp (approx ¾ to 1 hour). Allow to cool slightly.
Mix salad greens, chopped tomatoes, sliced onion, radish slices, avocado chunks and lemon juice. Season to taste.
Break chicken into bite size pieces and lay over salad. Drizzle with olive oil and mix through the salad – preferably by hand.
Break bacon into small pieces and sprinkle on top (optional).
Serve while chicken is still warm
Tips
Leave the chicken sit on top of the salad leaves for a few minutes before mixing. This allows the heat to gently permeate through the salad mixture.
Best served when freshly cooked.